Creamery Butter Candy Bar
---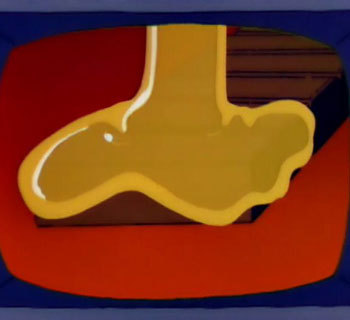 Commercial Announcer: We start with pure milk chocolate…Add a layer of farm-fresh honey…Then we sprinkle on four kinds of sugar…And dip it in rich, creamery butter…
– Bart's Friend Falls in Love
This is the second and final entry in the rich, creamery butter series. It's also making me yearn for a world where more foods are just covered in butter. I realize that would be ridiculously unhealthy, but at the same time I wouldn't exactly say no to having melted butter as a side to every meal, kind of like ketchup and mustard. Perhaps we all need a little Creamery Butter Candy Bar in our lives?
Ingredients
Pure milk chocolate
Farm fresh honey
Granulated sugar
Icing sugar
Brown sugar
Coconut sugar
Rich, creamery butter
Directions
Pour honey over chocolate. Add a spoonful of four kinds of sugar. Dip in rich, creamery butter. Consume before the butter melts the chocolate.
I didn't think this would all work together, but it really does. If I could, I would totally eat this with one of those metal deelies…you use to…dig…food… But it's probably better that I don't do that. The sugar added a nice crunch and the butter added a salty taste that brought everything together.
Cromulence: 9 Subliminally Slims out of 10
Creamery Butter Candy Bar Recipe from: Bart's Friend Falls in Love (The Simpsons Season 3 – Episode 23)