According to "college boy" Ned Flanders, he has a "Phd in mixology" . This is somewhat surprising given that he doesn't include the full recipe for his drink: Flanders' Planter's Punch. I mean, unless he actually intends for Homer to drink about 5 shots of alcohol in one drink? Given how quickly Homer gets drunk, this isn't exactly a stretch. But at the same time I really think this drink is supposed to have some mixer added to it, Ned just doesn't mention what that was supposed to be.
Ingredients
3 Shots of Rum
1 Jigger of Bourbon
1 Daberilla of Creme de Cassis
Gag ice cube with fly inside (optional)
Directions
Mix all liquor ingredients into a shaker with ice. Shake thoroughly and strain into a glass.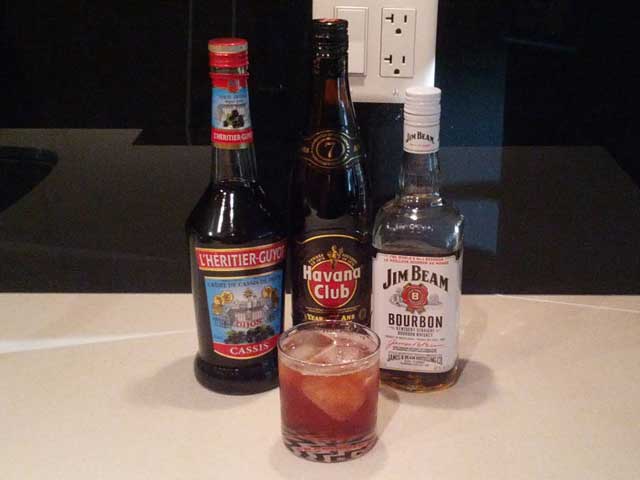 The Flanders' Planter's Punch is one strong drink! And since I don't really like drinking straight liquor all mixed together, I only had a few sips in before giving up and adding some mixer. For me, that mixer was Pepsi and suddenly things start to taste a lot better. I think this would work equally well with Sprite or something clear. Or you could just drink it straight if you want to look down your neighbors dress and have a somewhat good excuse for doing that.
Cromulence: Straight Up 2 Queen of the Harpies out of 10; With Pepsi 8 Queen of the Harpies out of 10
Flanders' Planter's Punch Recipe from: The War of the Simpsons (The Simpsons Season 2 – Episode 20)